Tonight's VPNA annual meeting was a hit! Thank you to our speakers: Jason LaBrado from Neighborhood Housing Services, Wendy Larimore from Boise Parks and Rec, and Jay Story from Boise West End. Thank you also to everyone who contributed their voice to the meeting. We are so excited for all the new board members!
Now on to Spring Fling, it's just a couple days away!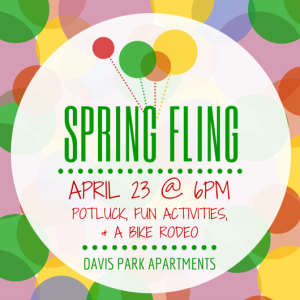 Spring Fling Block Party at
Davis Park Apartments
Thursday, April 23rd
6-8pm
929 N. 28th Street
NHS is partnering with the Boise Bicycle Project for a bike giveaway and rodeo for Davis Park Apartments' residents. There will also be other activities and a potluck! All are welcome to attend.
More info:
If you bring a dish please bring a copy of the recipe in case anyone wants to make it on their own. We plan on having some other activities including face painting, yarn crafts, how many m&m's are in this jar, bag toss, etc. One more thing we are also doing a house wares drive so if you have any old items (forks, spoons, bowls, plates etc.) that you are looking to rid yourself of during your spring cleaning please bring them for repurposing or simply pick up a new shampoo, soap, detergent to donate. All of these are optional of course as we only truly care about your presence.