by Rae Brooks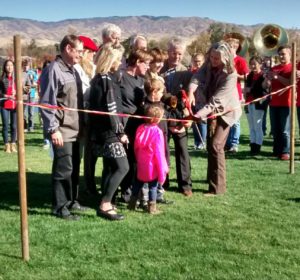 Before a crowd of hundreds, and to the strains of the Boise High School marching band, Esther Simplot used a giant pair of scissors yesterday to cut a ribbon to officially open the new park along the Boise River that bears her name.
Boise City Council President Elaine Clegg called the 55-acre Esther Simplot Park the newest in Boise's "ribbon of jewels" along the Boise River. The city now has 350 acres of parks along the river, matched by 26 miles of Greenbelt path on each side.
"Esther Simplot is going to be the one that connects us to the water," said Clegg. She called the park "a new place in the West End" and wondered if it might become "too popular." Under sunny skies, canoeists and paddle-boards were already enjoying the new Esther's Pond behind her.
Construction of the multi-million-dollar park began in February 2015. The Simplot family foundation, which footed the construction bill, has not released figures, but Boise Parks and Recreation Director Doug Holloway said the city had previously estimated building costs at $11 to $12 million.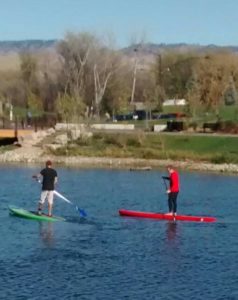 Boise Mayor Dave Bieter told the crowd that Esther Simplot is likely to be the last park built along the Boise River in the city's urban core. The new park, he said, has one and a half miles of paths, 630 newly planted trees and 4,000 tons of boulders imported from a ranch in Weiser, Idaho.
"For divers," he added, "there's a car, a van and a boat at the bottom of the pond. These are the ones we wanted there, not the ones we didn't."
Old vehicles were among the contaminated materials discovered during park excavation. Park builders removed 150,000 cubic yards of petroleum-laced soil and other debris. At the peak of the operation, 45 large dumptrucks an hour were carting off loads to the landfill.
The added removal costs put the park's design at risk. But the city came up with $4 million for the cleanup, while the Simplot family foundation added an additional $1.5 million.
Bieter called the construction of Esther Simplot Park "the toughest project I've been involved in in 13 years as mayor."
Scott Simplot, youngest son of the late J.R. Simplot, told the crowd that the Simplot family wanted the park to harken back to an old-fashioned swimming hole. He recalled fondly how, while growing up in Boise, he would shinny up a tree hanging over a pond, tie a rope to a branch, then climb back down and swing out on the rope into the water.
"I don't know what we'll do when one of these trees grows over the pond," he said. "Maybe, just maybe, we'll have the world's greatest swimming hole."