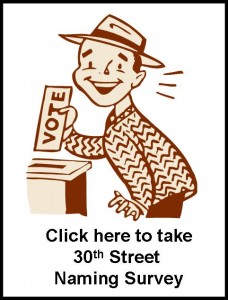 Have you ever wanted to name a road? The City of Boise is giving you yourchance.
The city is looking for name suggestions for a stretch of road that's being built as part of the 30th Street Area Master Plan. The roadway, currently known as the 30th Street Extension, is meant to help revitalize the western area of downtown Boise along the Boise River.
If you are a Boise resident and want to help re-name the 30th Street Extension, click here.
A new name for the roadway needs to be picked soon so that it can be included in the design plans, which are expected to be completed in early 2011.
The actual roadway will connect 30th Street near the Shilo Inn on Fairview Avenue to Rose Street near the Idaho Department of Transportation headquarters on State Street. Construction on the road is being planned for 2013.
To help pick the name, the Boise City Council is offering a survey to all Boise residents over the age of 18. You can either supply your own name, or pick one of the ones that have already been suggested, such as Whitewater Way or Rose Parkway.
The City Council will then use those survey results to pick the name of the street, which will have four lanes of traffic, two bike lanes, and sidewalks on each side.
From KTVB.com by Jordan Gray of Idaho's NewsChannel 7